The manufacturer ThermoFisher, Thermo Ramsey ™ offers a range of instrument products for the industrial process, especially dynamic weighing and bulk product control. These products are generally used for production optimization, supervision, safety and control of the industrial process. They are marketed worldwide for the coal industries, cement plants, chemical industries, mining, brickworks, thermal power plants, agri-food and others.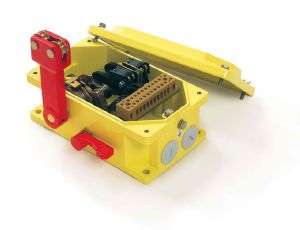 The 6031 RAMSEY PRO-LINE cable emergency stops are dedicated to the protection of people on long-term installations (conveyor lines/handling, quarry, candy). The emergency cable stop is triggered by the pull or break of the cable (lifeline). Thanks to the pre-stretched "lifeline," the emergency stop function can be activated at any point in the cable, whether at head, hip or knee height, for a maximum distance of 100 m.
The rearmament is done by a lever located on the body.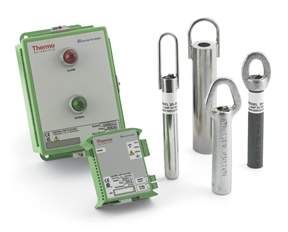 The full range of TILT SWITCH RAMSEY US and EU probes:
20-39 Standard Probe Nickel Chrome 8 1/4″ 1 1/4″ 2 1/2″ 1.5
20-31 Light-Weight, 1″ Plastic Probe PVC 9″ 1″ 2″ 0.5
20-32 Heavy-Duty, 2″ Probe Acrylic Enamel 10″ 2″ 4″ 8
20-33 Buoyant, Plastic Slurry Probe PVC 19″ 1″ 1″ 1
20-30-SS Stainless Steel Probe 304 SS 10 1/4″ 1″ 2″ 1
20-39B Low-Temp. (Below -25 degrees F) Nickel Chrome 8 1/4″ 1 1/4″ 2 1/2″ 1.5
20-39C Hi-Temp. (180-390 degrees F) Nickel Chrome 8 1/4″ 1 1/4″ 2 1/2″ 1.5
21-39 – Class I and II, FM Approved Nickel Chrome 8 1/4″ 1 1/4″ 2 1/2″ 1.5
20-41 Standard Probe, 110 VAC Nickel Chrome 8 1/4″ 1 1/4″ 2 1/2″ 1.5
20-41-SS Stainless Probe, 110 VAC 304 SS 10 1/4″ 1″ 2″ 1 #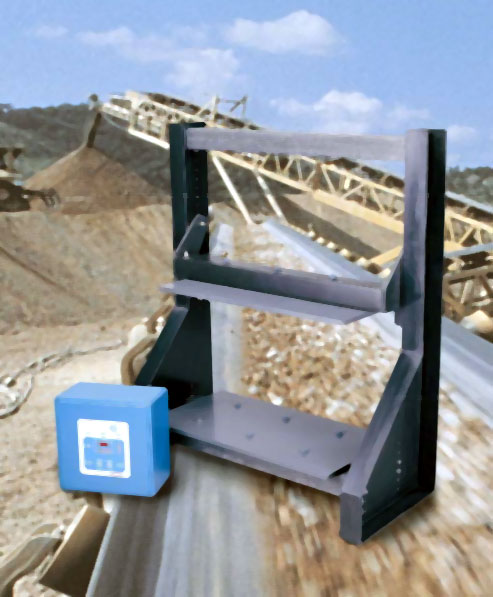 The Thermo RAMSEY model ORETRONIC IV metal detector detects the presence of metal pieces in products transported on conveyor belts and thus protects crushers, process and handling equipment. The ORECTRONIC III metal detector consists of a 30-200 microprocessor electronic unit and two coils (lower and upper). the top coil is mounted on an articulated frame allowing the coil to rotate in case of a layer of material too high.

The device detects, with great reliability, any type of metal waste found in the products carried on the conveyor belts: bucket tooth, bar, chain tools, etc.
The ORETRONIC III detector generates a pulsating primary magnetic field and by monitoring the decrease of The currents of Foucault, detects on the conveyor belt metal waste, even mixed with wet and conductive materials. Even the presence of Magnetite in the product does not cause erroneous triggers or annoying setbacks.
The ORETRONIC III detector can be installed on conveyor belts with speeds of up to 6 m/s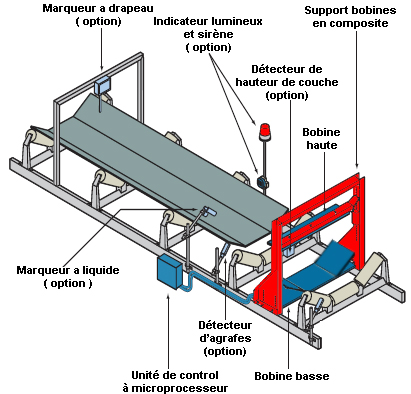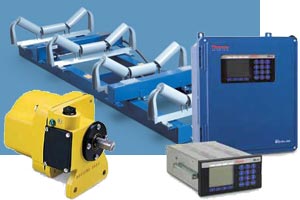 Pmodular dynamic toggle for 1030SBM series conveyor belt including:
– One / Two universal weighing block 1030 IDEA.
– A TNRV wheel-type speed sensor
– A junction box for dynamic weighing (BJP-DP)with 20 m of cable
– A calculator – DYNAMIC weighing integrator MINI-CK-101 RAMSEY (Total pulse, Ethernet Modbus)
For Mine 600 to 1,400 mm conveyor belt
50 to 1,000 t/h
Accuracy 1%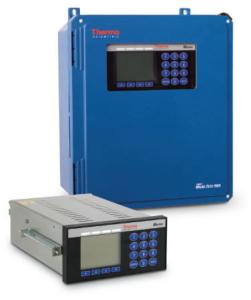 THE THERMO FISHER RAMSEY MICROTECH 9000 series is the new universal weighing calculator. Each model responds to a proven application of more than 30 years experience:
MT9101 Dynamic weighing on conveyor belt
MT9102 Weighing-dosing one or more products up to 4 simultaneous weighing lines.
MT9104 Weight Loss Flow Regulation
MT9105 Dynamic weighing with flow regulator (PID)
MT9106 Dynamic weighing for de-impact plate flow meter DE10 ILE61…
OIML-approved version in IPFA and IPFNA
Benefits

– Different entry cards – exits
– Up to 4 independent weighing entries.
– PROFIBUS communication card, ALEN BRADLEY, MODBUS…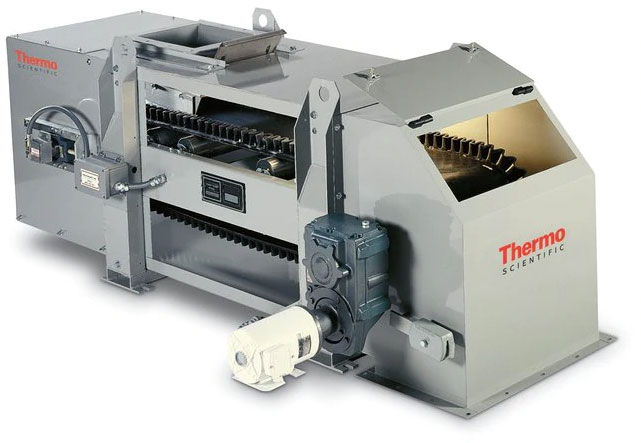 Make critical product quality measurements with a specially designed conveyor belt to provide the most accurate monitoring, mixing and control capabilities. The mid-range Thermo Scientific ™ Ramsey ™ 90-125 model measures industrial materials at moderate feed speeds to reduce material waste, help maintain blend consistency and increase profits. Its unique cantilevered and formed cantilevered frame design provides a solid and robust weighing structure and allows for quick and easy maintenance to increase the performance of your process and improve your results. Associated with the Thermo Scientific ™ Ramsey ™ Micro-Tech 9105.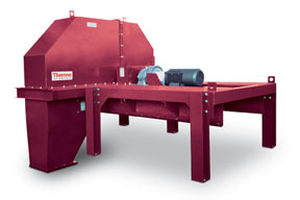 The SWAX-7000 thermo-scientific model sampler is a pendulum sample sample that provides an easy and convenient way to secure a representative sample directly from a main jet of material. It is generally used as a stand-alone sampling device that extracts a cross belt cut from a control container in a multi-stage mechanical collection system or as a primary extractor. In addition, it can be easily installed at a low cost.
Brand

Product
Description
Thermo Ramsey
42279
Thermo Ramsey
59488
.
Thermo Ramsey
59495
ALARMS, SWITCH, 10A-120/250VAC, OUTPUT 2SPDT, NEMA-4
Thermo Ramsey
10484
THERMO SCIENTIFIC RAMSEY Displaykarte fer Auswerteelektronik MT
Thermo Ramsey
10570
THERMO SCIENTIFIC RAMSEY Geschwindigkeitsaufnehmer 60-12P
Thermo Ramsey
11016
THERMO SCIENTIFIC RAMSEY Tiltschalter 20-39, 7m Gehause: Guss Kontaktbelastung: 1 A/ 24 VDC; nicht induktiv NC Kontakt 'ffnet bei ca. 15' Schroeder aus der senkrechten Kabell-nge: 7 m Temperaturbereich: -30C – '80'C Warennummer: 90318034 Gewicht: 2 kg/Steck Ursprungsland: USA
Thermo Ramsey
11016
THERMO SCIENTIFIC RAMSEY Tiltschalter 20-39, 7m Gehause: Guss Kontaktbelastung: 1 A/ 24 VDC; nicht induktiv NC Kontakt 'ffnet bei ca. 15' Schroeder aus der senkrechten Kabell-nge: 7 m Temperaturbereich: -30C – '80C
Thermo Ramsey
11017
THERMO SCIENTIFIC RAMSEY Tiltschalter 20-39C, 7m Gehause: Guss Kontakt: NC; 1 A/ 24 VDC; nicht induktiv Kontakt 'ffnet bei 15' Schroeder aus der senkrechten Kabell-nge: 7 m Temparaturbereich: -20C – '200'C Warennummer: 90318034 Gewicht: 1.4 kg/Steck Ursprungsland: USA
Thermo Ramsey
11026, 6023P 15/150
THERMO SCIENTIFIC RAMSEY Speed SW
Thermo Ramsey
11027
THERMO SCIENTIFIC RAMSEY Speed SW 6023P 60/600
Thermo Ramsey
11027, 6023P 60/600
THERMO SCIENTIFIC RAMSEY Speed SW
Thermo Ramsey
11029
THERMO SCIENTIFIC RAMSEY Schieflaufw-chter 60-30F
Thermo Ramsey
36860
(120 Elektronikteile Thermo Electron ™ Ramsey™ 4 – 20 mA, Output Electronic Card Type)
Thermo Ramsey
20-30-SS-25
Thermo Ramsey
20-30-SS-25
Thermo Ramsey
92201
Thermo Ramsey
20-39 CONTACT RATING – 1A AT 24VDC
Coal Feeder Tilt Switch
Thermo Ramsey
20-39, 7M
Gehause: Guss Kontaktbelastung: 1 A / 24 VDC; Nicht induktiv NC Kontakt OffNet bei ca. 15 – Schroeder aus der senkrechten Kabell-nge: 7 m Temperaturbereich: -30 C – '80 ' C
Thermo Ramsey
21-35-NM-F-4X
THERMO SCIENTIFIC RAMSEY Tiltschalter CSA Tilt Sensor Control Box 21-35-NM-F-4X Stainless Steel Box Article-No.: 092203 Enclosure material: SST 2. Enclosure rating: NEMA 4X, IP66 Mounting: Remote Power supply: 115/230 VAC,50/60 HZ Adjustable time delay: Required Conduit connection: M20x1.5 Contact type: 2 Form C (SPDT) Contact rating: 10A '115/230 VAC Suitable for area classification: Cl. II, Div. 1 and 2, Grp. G Approval Hazardous area required Warennummer: 90318034 Gewicht: 0 kg/Steck Ursprungsland: USA
Thermo Ramsey
21-54-NM-SS-50
THERMO SCIENTIFIC RAMSEY Tiltschalter Mercury Free Tilt Switch 21-54-NM-SS-50 1″ Stainless Steel,k 50'Cable Article-No.: 092221 Tilt sensor material: 316 SST Cable (from sensor to control unit): 50 ft. Mounting: Hanger assembly with 'S'hook hanger links and with 1/2″ NPT socket pipe hanger Suitable for area classification: Cl. II, Div. 1 and 2, Grp. G Approval: Hazardous area required Warennummer: 90318034 Gewicht: 2 kg/Steck Ursprungsland: USA
Thermo Ramsey
60-12C – GESCHWINDIGKEITSAUFNEHMER
–
Thermo Ramsey
60-200-SC
Sensor Motion Monitor Controller single channel
Thermo Ramsey
60-12H-1-I.
(speed sensor)
Thermo Ramsey
60-23P UNDER SPEED SWITCH, 60/600 PULSE PER MINUTE
Thermo Ramsey
60-30TH
Thermo Ramsey
11029
Schieflaufw-chter
Thermo Ramsey
60-30F
Thermo Ramsey
60-31ST
Thermo Ramsey
60-31F
Thermo Ramsey
75
THERMO SCIENTIFIC RAMSEY Schalter SPS-2D (part-no. 059495)
Thermo Ramsey
91, MODELL 60-23A
THERMO SCIENTIFIC RAMSEY Sensor
Thermo Ramsey
I/O MODUL MAP
ANALOG OUTPUT BOARD (0÷20 / 4÷20 MA) optionsulated
Thermo Ramsey
IT80-41P
(72 THERMO SCIENTIFIC RAMSEY Anschlusskasten)
Thermo Ramsey
MICRO TECH 2001
bant kantar
Thermo Ramsey
MT 3105P (11008)
Thermo Ramsey
MICROTECH 3104P
Loss in weight controller unit
Thermo Ramsey
MODEL: 2001
Micro-Tech 2000 Intergrator
Thermo Ramsey
MODEL NO:20-35U
TILT SWITCH PROBE,VOLTAGE: 110/220 VAC, 50 HZ,
Thermo Ramsey
MT 9100 PM
(THERMO SCIENTIFIC RAMSEY Auswerteelektronik MT for stat. Waage Typ: MT 9100 PM (19 – Einschub) Schalttafel-Einbau-Geh-use (DIN43700) Versorgungsspannung: 24 VDC (up 10 to -15%). Kommunikation / Schnittstellen: o Modbus TCP, Ethernet IP (100baseT, RJ45 Ethernet port) o Serielle Schnittstelle: RS 485, Non-isoliert, 2 und 4-Draht o Optisch isolierte RS-232 oder RS-485-Schnittstelle Einstellungshistorienspeicher ist Standard in jedem System.)
Thermo Ramsey
PROFIBUS BOARD
profibus elektronik map
Thermo Ramsey
S-PRCN 1000LB
Thermo Ramsey
Sps
Thermo Ramsey
SWITCH RAMSEY 1AMP, 20-30-SS-25
NO INDUCTIVE AT24 V.A.C,Titanex11 USE-HAR-H07-RN-F 2X1 BOY 3MTR Thermo Scientific Ramsey Pro-Line 20-30-SS-25
Thermo Ramsey
TS20-39
.
Thermo Ramsey
0.9854
Thermo Ramsey
9854 rec 3586
Thermo Ramsey
Modell SPS-2D
Thermo Ramsey
Profibus DP PCBA (10527)
Thermo Ramsey
MT 3101 FM (Wandgehause)
Thermo Ramsey
10-30 MN4
Thermo Ramsey
CK101PANAL
Thermo Ramsey
Oretronic III
Thermo Ramsey
RS-485
Thermo Ramsey
MT 3101 PM (19 – Inschub)
Thermo Ramsey
60-23A
Thermo Ramsey
MT 3105P obsolete, replaced by MT 9105 PM
Thermo Ramsey
MT 9105 PM
Thermo Ramsey
20-39-25
Thermo Ramsey
Display for MIC-TECH 2000
Thermo Ramsey
11021
Thermo Ramsey
60-31D obsolete replaced by 60-31F
Thermo Ramsey
6013F 60-31 F
Thermo Ramsey
6013 60-31F
Thermo Ramsey
11030
Thermo Ramsey
46847
Thermo Ramsey
46860
Thermo Ramsey
20-39
Thermo Ramsey
SPS-2D-3-NP NEMA
Thermo Ramsey
ROS-2D-3-NP NEMA
Thermo Ramsey
20-39 NEMA
Thermo Ramsey
60-23
Thermo Ramsey
20-59-NM-25
Thermo Ramsey
MODEL 20-30-SS-25
Thermo Ramsey
46915
Thermo Ramsey
60-23P
Thermo Ramsey
46916
Thermo Ramsey
11-100-RC
Thermo Ramsey
Type: 57TYG002 Obsolete
Thermo Ramsey
129782
Thermo Ramsey
Seria 6031
Thermo Ramsey
60-12 CSA obsolete replaced by 61-12C/CSA
Thermo Ramsey
56651
Thermo Ramsey
56655
Thermo Ramsey
58251
Thermo Ramsey
58252
Thermo Ramsey
301105
Thermo Ramsey
S156526
Thermo Ramsey
61-12C/CSA
Thermo Ramsey
60-12C
Thermo Ramsey
ROS-2D-3-NP
Thermo Ramsey
SPS-2D-3-NP
Thermo Ramsey
NP: 042279
Thermo Ramsey
20-39-15 not available replacement 20-39-25
Thermo Ramsey
20-39C
Thermo Ramsey
20-39-25
Thermo Ramsey
20 30 SS
Thermo Ramsey
20-35-NM-DIN
Thermo Ramsey
20-59-NM-75
Thermo Ramsey
SPS-2D
Thermo Ramsey
60-30
Thermo Ramsey
60-32
Thermo Ramsey
60-31
Thermo Ramsey
20-30-SS-25
Thermo Ramsey
ROS -2d
Thermo Ramsey
60-30
Thermo Ramsey
60-32
Thermo Ramsey
60-31
Thermo Ramsey
21-52-NM-25
Thermo Ramsey
TR20-39
Thermo Ramsey
TR60-30
Thermo Ramsey
TR60-31
Thermo Ramsey
20-30-SS-25
Thermo Ramsey
20-35-NM-F
Thermo Ramsey
54874
Thermo Ramsey
20-43
Thermo Ramsey
20-43
Thermo Ramsey
model 20-43
Thermo Ramsey
N0758A002617
Thermo Ramsey
DB-100
Thermo Ramsey
102350D711202 OEM
Thermo Ramsey
20-31
Thermo Ramsey
20-39-25
Thermo Ramsey
Sensor-Kabelverl?ngerung – optional f?r 20-59-NM-25
Thermo Ramsey
Schlei?platte – optional f?r 20-59-NM-25
Thermo Ramsey
2030SS / alternative 20-54-NM-SS-25
Thermo Ramsey SPS-2D-3-NP . Thermo Ramsey 42279 . Thermo Ramsey 59488 Thermo Ramsey 59495 Thermo Ramsey 10484 Thermo Ramsey 10570 Thermo Ramsey 11016 Thermo Ramsey 11017 Thermo Ramsey 11026, 6023P 15/150 Thermo Ramsey 11027 Thermo Ramsey 11027, 6023P 60/600 Thermo Ramsey 11029 Thermo Ramsey 11-30-0 Thermo Ramsey 20-30-SS-25 TILT SWITCH Thermo Ramsey 20-30-SS-25 Tilt switch Thermo Ramsey 92201 CONTROL UNIT Thermo Ramsey 20-39 CONTACT RATING – 1A AT 24VDC Thermo Ramsey 20-39, 7M Thermo Ramsey 21-35-NM-F-4X Thermo Ramsey 21-54-NM-SS-50 Thermo Ramsey 60-12C – GESCHWINDIGITSAUFNEHMER Thermo Ramsey 60-200-SC Thermo Ramsey 60-22H-1-I. Thermo Ramsey 60-23P UNDER SPEED SWITCH, 60/600 PULSE PER MINUTE Thermo Ramsey 60-30E Limit switch Thermo Ramsey 60-30F . Thermo Ramsey 60-31E Limit switch Thermo Ramsey 60-31F . Thermo Ramsey 75 Thermo Ramsey 91, MODELL 60-23A Thermo Ramsey I/O MODUL CARTE Thermo Ramsey IT80-41P Thermo Ramsey MICRO TECH 2001 Thermo Ramsey MT 3105P (11008) Feeder Controller Thermo Ramsey MICROTECH 3104P Thermo Ramsey MODEL : 2001 Thermo Ramsey MODEL NO:20-35U Thermo Ramsey MT 9100 PM Thermo Ramsey PROFIBUS BOARD Thermo Ramsey S-PRCN 1000LB Thermo Ramsey SPS Thermo Ramsey SWITCH RAMSEY 1AMP, 20-30-SS-25 Thermo Ramsey TS20-39 Thermo Ramsey 0.9854 Thermo Ramsey 9854 rec 3586 Thermo Ramsey Modell SPS-2D Reissleinenschalter Thermo Ramsey Profibus DP PCBA (10527) Thermo Ramsey MT 3101 FM (Wandgehäuse) Auswerteelektronik MT für Registrierbandwaage Artikel-Nr.: 10982 Gewicht: 12 kg/Stück Thermo Ramsey 10-30 MN4 Weighbridge Thermo Ramsey CK101PANAL Integrator Thermo Ramsey Oretronic III Magnetic coil Thermo Ramsey RS-485 Control unit Thermo Ramsey MT 3101 PM (19´´Einschub) Auswerteelektronik MT für Registrierbandwaage Artikel-Nr. : 11007 Gewicht: 4.8 kg/Steck Thermo Ramsey 60-23A Ramsey Sensor Modell 60-23A including rubber coupling Thermo Ramsey MT 3105P obsolete, replaced by MT 9105 PM controller Thermo Ramsey MT 9105 PM Auswerteelektronik MTfur Dossierbandwaage Thermo Ramsey 20-39-25 Tilt switch Thermo Ramsey Display for MIC-TECH 2000 Display for electronic weighbridge Thermo Ramsey 11021 Tilt Thermo Ramsey 60-31D obsolete replaced by 60-31F SWITCH Thermo Ramsey 6013F 60-31 F Rope safety switch Thermo Ramsey 6013 60-31F Rope Safety Switch Thermo Ramsey 11030 Reissleinschal Ter Thermo Ramsey 46847 LED Assy Thermo Ramsey 46860 Display Ass Thermo Ramsey 20-39 TILT SWITCH Thermo Ramsey SPS-2D-3-NP NEMA pull switch Thermo Ram Ram ROS-2D-3-NP NEMA switch Thermo Ramsey 20-NP 39 NEMA Switch Thermo Ramsey 60-23 UNDERSPEED SWITCH Thermo Ramsey 20-59-NM-25 Thermo Ramsey MODEL 20-30-SS-25 TILT SWITCH Thermo Ramsey 46915 LOADCELL Thermo Ramsey 60-23P . Thermo Ramsey 46916 . Thermo Ramsey 11-100-RC . Thermo Ramsey Type: 57TYG002 Obsolete Microtech 2000 Thermo Ramsey 129782 Cable Thermo Ramsey Seria 6031 emergency stop cable Thermo Ramsey 60-12 CSA obsolete replaced by 61-12C/CSA SPEED SENSOR BELT Thermo Ramsey 56651 motor Thermo Ramsey 56655 timing belt Thermo Ramsey 58251 brush Thermo Ramsey 58252 brush Thermo Ramsey 301105 spring Thermo Ramsey S156526 motor drive board Thermo Ramsey 61-12C/CSA Speed Sensor Thermo Ramsey 60-12C . Thermo Ramsey ROS-2D-3-NP . Thermo Ramsey NP: 042279 sensor Thermo Ramsey 20-39-15 not available replacement 20-39-25 TILT MONITOR FOR CHUTE PLUG Thermo Ramsey 20-39C TILT SWITCH HIGH TEMP Thermo Ramsey 20-39-25 Thermo Ramsey 20 30 SS Thermo Ramsey 20-35-NM-DIN . Thermo Ramsey 20-59-NM-75 . Thermo Ramsey SPS-2D Switch Thermo Ramsey 60-30 #263494 Thermo Ramsey 60-32 #290118 Thermo Ramsey 60-31 #268815 Thermo Ramsey 20-30-SS-25 . Thermo Ramsey ROS -2d run off switch Thermo Ramsey 60-30 . Thermo Ramsey 60-32 . Thermo Ramsey 60-31 . Thermo Ramsey 21-52-NM-25 . Thermo Ramsey TR20-39 Shot blocked switch Thermo Ramsey TR60-30 Band shift key Thermo Ramsey TR60-31 Thread switch Thermo Ramsey 20-30-SS-25 Probe, 1″ Stainless Stell, 25′ Cable Thermo Ramsey 20-35-NM-F Tilt Sensor Control in field mount NEMA-4 Box Thermo Ramsey 54874 Thermo Ramsey 20-43 Tilt Swiitch Thermo Ramsey 20-43 Control Unit Thermo Ramsey model 20-43 Control Unit Thermo Ramsey N0758A002617 Thermo Ramsey DB-100 Thermo Ramsey 102350D711202 OEM motor Thermo Ramsey 20-31 Tilt Switch
By providing your email address, you agree to receive the Telemetrix newsletter and you claim to have read our Legal Mentions. You can opt out at any time using the opt-out links at the bottom of our emails or by contacting us at the address
[email protected]